Peraturan Forum
Anda ingin mempromosikan toko audio atau toko musik atau jasa audio lainnya di subforum ini ? Kontak webmaster@artsonica.com untuk biayanya.
_________________________

Anda sudah login tetapi hanya bisa membaca postingan member lain ? Berarti Anda harus memperkenalkan diri terlebih dahulu secara lengkap pada subforum

PERKENALAN MEMBER

!
Untuk member yang sudah memposting perkenalan tapi masih belum bisa membalas postingan member lain berarti perkenalan Anda belum di approved admin. Silakan bersabar untuk menunggu 1 x 24 jam.
Apabila postingan Anda belum di approved setelah 1x24 jam, silakan kontak admin di webmaster@artsonica.com !
2 post • Halaman 1 dari 1
Post: 13
Bergabung: 09 Jan 2014, 15:17
PRO TOOLS HD SYSTEM
Pro Tools HD System divided by 2 types.
- Pro Tools HD | Native System
- Pro Tools HD | HDX System

Pro Tools HD | Native System

ProTools|HD Native is a new generation of Pro Tools|HD system that enables you to compose, record, edit, and mix music and/or sound for picture—with great speed and ease. Consisting of an HD Native Thunderbolt interface or PCIe core card, Pro Tools HD software, and Pro Tools HD Series interface, Pro Tools|HD Native harnesses the power of your Mac or PC to deliver pristine sound, incredible performance, and the lowest latency of any host-based DAW.
Choice of HD Native Thunderbolt interface or PCIe card

Unlike USB- or FireWire-based DAWs, which are inherently prone to latency, Pro Tools|HD Native employs either a high-speed Thunderbolt interface or PCIe core card to connect Pro Tools HD Series interfaces with your laptop or desktop computer. By eliminating distracting monitor latency while recording, increasing your I/O capabilities, and providing 64-bit floating-point processing for more headroom and a higher mix resolution, you get a professional native solution that meets the highest audio standards.
Experience high performance and reliability
Whether you're tracking multiple inputs or mixing hundreds of tracks, Pro Tools|HD Native tightly integrates with your computer's CPU to keep up with your project's highest demands—without compromise. Choose the HD Native card if you have a PCIe-equipped Mac or PC, or the HD Native Thunderbolt interface, which features a powerful audiophile-grade headphone output for easy monitoring, for Thunderbolt-equipped desktop and laptop computers.
Capture and play back with the highest quality conversion
Get pristine audio fidelity and clarity when you record and play back through a Pro Tools HD Series interface. These critically-acclaimed interfaces offer state-of-the-art A/D and D/A conversion, premium analog circuitry, high-quality/low-noise I/O, and meticulous designs to capture and reproduce the full, natural sound of your original source, so you hear all of the character and nuances that make it unique.
Get higher resolution sound and mix with more headroom
With Pro Tools|HD Native, you can create great sounding, studio-quality productions at up to 32-bit, 192 kHz audio resolution. And with 64-bit floating-point processing, you gain more headroom for your mix, enabling you to flex your creativity and maintain audio clarity—without fear of overloading the mix bus. So go ahead and pile on the plug-ins to get the sound you really want.
Hear what you've been missing—without distracting latency
What happens when you combine best-in-class audio conversion with a high-speed Thunderbolt or PCIe throughput? You get a high-performance system that can handle whatever you throw at it, and the lowest possible latency for your sessions. That means you can monitor your performance in sync with the playback for easier, worry-free recording.
Everything you need for professional music and audio production
With Pro Tools HD software included, you can compose, record, edit, sequence, and mix music and sound for picture with great speed and ease. Create complex compositions with the integrated Score Editor and MIDI production tools. Track sessions with extremely low latency. And gain inspiration and professional polish from over 75 included effects and virtual instruments.
Expand your capabilities
With Pro Tools|HD Native, you gain the flexibility to customize your system for your needs now and in the future. Mix and match HD Series interfaces to work with up to 64 channels of I/O. Add sync capabilities for working with video. Take hands-on control of your mix with an Avid Pro Mixing console or control surface. And expand your sonic palette with a wide range of AAX* plug-ins and software options available from Avid and other third-party audio developers.
Open up your workflow
Use the included Pro Tools HD software and you'll maximize your productivity, efficiency, and creative potential, as well as gain unparalleled performance and control of Avid audio and video interfaces, control surfaces, and live sound systems. But you can also use your Pro Tools|HD Native hardware with other Core Audio- and ASIO-compatible DAW software such as Logic, Nuendo, Live, Cubase, Reason, and Fruity Loops—with support for 64 channels of I/O—opening up even more creative avenues.
Pro Tools HD | HDX System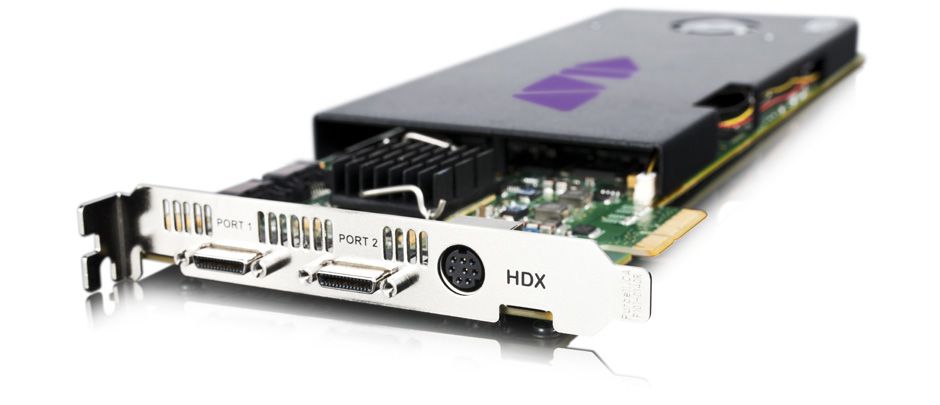 Pro Tools|HD—Pro Tools|HDX is the new generation of Pro Tools|HD, providing more power, higher audio quality, and easier ways to record, edit, and mix the most demanding productions. Get more tracks, more headroom, and up to 5x more dedicated DSP power to tackle even the most massive music and post-production projects with the confidence that comes with guaranteed performance.
Mix bigger, better projects
With Pro Tools|HDX, you get up to 5x more power per card than Pro Tools|HD Accel, so you can focus on your mix—not your mixer—and do much more with less.
Create bigger, more complex mixes with 4x more tracks (up to 768 voices)
Double your ins and outs with up to 64 channels of I/O per card (up to 192 total)
Handle large plug-in-heavy mixes easily with 4x more Automatic Delay Compensation
Get more headroom—less headaches
Pro Tools|HDX uses floating-point calculations for plug-in processing and mixing, enabling you to achieve the best sound quality possible, with the least effort.
Record and mix in higher resolution (up to 32-bit, 192 kHz audio) and significantly greater dynamic range
Let your mixes breathe with increased headroom, and eliminate clipping and obsessive gain staging
Improve workflow and sonic parity between DSP-accelerated and native-based Pro Tools systems with the new AAX plug-in platform
The fastest workflows—yours
Pro Tools|HDX tightly integrates with Pro Tools HD software and your Mac or PC, giving you optimized performance from creation to completion.
Get a highly responsive feel—even in your most complex projects—with RAM-cached record/playback and real-time fades
Keep the channel routing in complex sessions in check easily with bus interrogation
Work faster with pro-level tools, including Clip Gain, advanced audio editing and automation, surround sound, and more
Accelerate your recording, editing, and mixing with Avid Pro Mixing consoles, which offer unprecedented hands-on control
Share even more with Media Composer and other AAF-compatible software with support for multichannel tracks, Clip Gain, and a 24-hour timeline
Mix in stereo or surround
With Pro Tools HD, you can mix in everything from mono up to 7.1 surround sound. Build up your sonic landscape and add movement to your mix with the built-in surround panner. Work with groups of tracks faster and easier with VCA Group mixing. And with advanced automation tools, you can tackle even the largest, most complex mixes with ease.
For detail please contact :
PT. Berkat Digipro Solusi

(+62)21 2653-8585
Jl. A.M Sangaji 38
Jakarta 10130
---
---
Site Admin
Post: 1583
Bergabung: 23 Des 2013, 06:53
Lokasi: Jakarta & Bandung
Great system & industry standard
Keep it up Avid !
Salam.
---
2 post • Halaman 1 dari 1
Kembali ke Berkat Digipro Solusi
Siapa yang online
Pengguna yang berada di forum ini: Tidak ada pengguna yang terdaftar dan 0 tamu