Peraturan Forum
Anda ingin mempromosikan toko audio atau toko musik atau jasa audio lainnya di subforum ini ? Kontak webmaster@artsonica.com untuk biayanya.
_________________________

Anda sudah login tetapi hanya bisa membaca postingan member lain ? Berarti Anda harus memperkenalkan diri terlebih dahulu secara lengkap pada subforum

PERKENALAN MEMBER

!
Untuk member yang sudah memposting perkenalan tapi masih belum bisa membalas postingan member lain berarti perkenalan Anda belum di approved admin. Silakan bersabar untuk menunggu 1 x 24 jam.
Apabila postingan Anda belum di approved setelah 1x24 jam, silakan kontak admin di webmaster@artsonica.com !
1 post • Halaman 1 dari 1
Post: 13
Bergabung: 09 Jan 2014, 15:17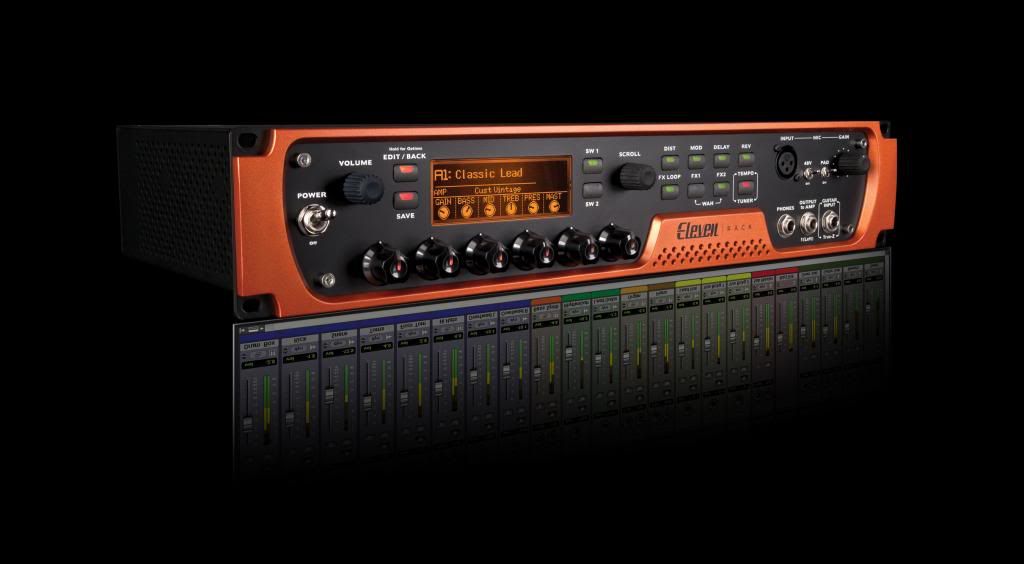 Overview
Eleven Rack + Pro Tools is a hardware/software bundle that provides the ultimate recording and amplifier emulation solution for guitar players. It comes with a high-quality DSP-accelerated hardware interface, industry-standard Pro Tools software, standalone Eleven Rack Editor application, and built-in Eleven Rack Expansion Pack, providing everything you need—and more—to showcase your skills. No matter how you use it, you'll always have the right tone at your fingertips—in the studio or on stage.
Why settle for a single amp at your next gig when you can have access to dozens? Eleven Rack holds its own as a standalone amp tone and effects processor, functioning like an amp head that can be connected to a speaker cabinet or direct to the soundboard.
Get the feel and response of playing through a variety of vintage amps, complete with such characteristics as amp sag and speaker cone breakup. Gain access to a vast collection of emulated classic effects—from must-have stompboxes to world-class studio processors. Plus, when you plug in a MIDI controller or expression pedal, you gain full foot control over everything from vintage wahwah effects to tempo-driven delays and more.
Get incredible emulations of classic amp tones inspired by Fender®, VOX®, Marshall®, Soldano, and Mesa/Boogie®*. Enhance your tone with classic stompbox effects inspired by MXR®, Electro-Harmonix®, Ibanez®, Pro Co, Univox®, and more*
Edit and configure Eleven Rack settings on your Mac or PC—without having to launch Pro Tools—using the standalone Eleven Rack Editor. With its simple, easy-to-use interface, which displays graphical versions of guitar pedal, amp, and speaker settings, you get a more intuitive way to get the sounds you want fast. You can even use it to download and play user-created presets from Elevenrackpresets.com and other portals.
Features :
Gain realistic response and tone with the unique True-Z
impedance-matching guitar input
Customize your sound with convolution-based cabinet and
microphone emulations
Get the performance you need through powerful onboard DSP
acceleration
Record up to eight simultaneous channels of 24-bit/96 kHz audio—with near-zero latency
Stay in tune with the built-in guitar tuner
Customize time-based effects through tap-tempo control
Have the connections you need to rig up your gear for recording:
One XLR mic input with 48V phantom power
Two 1/4" line-level inputs
Balanced stereo XLR outputs and dedicated 1/4" outputs (for
amp connection)
Two 1/4" FX sends and returns
AES/EBU and S/PDIF digital I/O
1x1 MIDI I/O
Stereo 1/4" headphone jack
Pedal/footswitch input
Get high-speed USB 2.0 connectivity with your Mac or PC
Take your sound from the studio to the stage with full standalone
functionality
* Eleven Rack is not connected with, or approved or endorsed by, the owners of the Ampeg, Bogner, Celestion, Electro-Harmonix, Fender, Ibanez, Marshall, Matchless, Mesa/Boogie, MXR, Pro Co, Roland, Soldano, Univox, or VOX names. These names are used solely to identify the guitar amplifiers, cabinets, speakers, and effects emulated by Eleven Rack.
for details Amp Sound visit :
http://www.avid.com/US/products/eleven-rack_2/features#overview
For detail please contact :
PT. Berkat Digipro Solusi
(+62)21 2653-8585
Jl. A.M Sangaji 38
Jakarta 10130
---
Eleven Rack - Rock Your Guitar Amps On Stage or in Studio
Sponsor
---
1 post • Halaman 1 dari 1
Kembali ke Berkat Digipro Solusi
Siapa yang online
Pengguna yang berada di forum ini: Tidak ada pengguna yang terdaftar dan 1 tamu