Peraturan Forum
Anda ingin mempromosikan toko audio atau toko musik atau jasa audio lainnya di subforum ini ? Kontak webmaster@artsonica.com untuk biayanya.
_________________________

Anda sudah login tetapi hanya bisa membaca postingan member lain ? Berarti Anda harus memperkenalkan diri terlebih dahulu secara lengkap pada subforum

PERKENALAN MEMBER

!
Untuk member yang sudah memposting perkenalan tapi masih belum bisa membalas postingan member lain berarti perkenalan Anda belum di approved admin. Silakan bersabar untuk menunggu 1 x 24 jam.
Apabila postingan Anda belum di approved setelah 1x24 jam, silakan kontak admin di webmaster@artsonica.com !
1 post • Halaman 1 dari 1
Post: 13
Bergabung: 09 Jan 2014, 15:17
Artist Series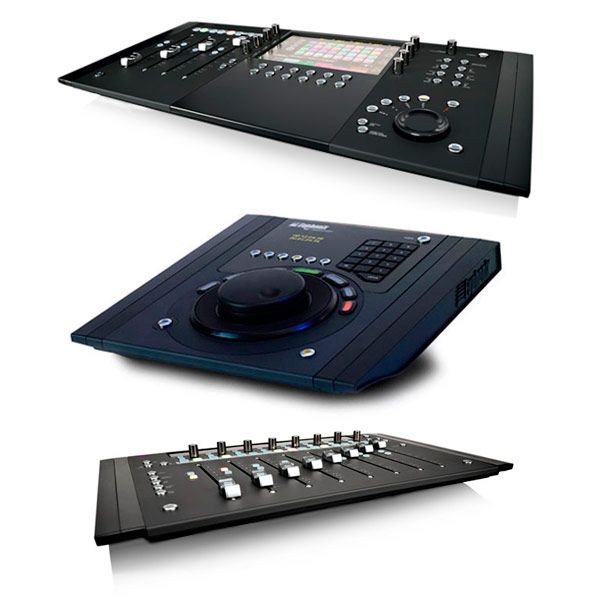 Take deep hands-on control of your favorite EUCON-enabled audio and video software to speed up editing and mixing tasks. Slim and highly portable, Artist Series control surfaces easily fit into any setup, deliver great responsiveness, and free you from the tedium of working with a mouse and keyboard alone.
What Is Eucon
EUCON (Extended User Control)
Artist Control features EUCON (Extended User Control), a high-speed open control protocol that has been adopted by many of the world's leading software developers. Pro Tools, Media Composer, Apple Logic, Apple Final Cut Pro, Steinberg Cubase, and many other applications support EUCON, giving you highly responsive control over almost all software functions. You gain high-resolution, high-speed control over almost all software functions, and a tightly connected "software as hardware" experience.
You can combine 1 Artist Control, 1 Artist Transport, 4 Artist Mix to speed up your workflow
Artist Control :
-View and access top-level information, track record arm/solo/ mute/select commands, Soft Keys, surround panning, and more using the customizable LED-backlit touchscreen
-Trigger keyboard shortcuts, macro commands, and more through unlimited programmable touchscreen Soft Keys and 12 physical Soft Keys
-Get highly responsive control through high-speed Ethernet connectivity...
-4 touch-sensitive 100mm long throw motorized faders
-8 touch-sensitive rotary encoders
-Data wheel and transport controls with modifier keys to assign wheel function
-Dedicated monitor/control room level and talkback mic controls
-Footswitch jack to punch in and out of recording
-Supports EUCON, HUI, and Mackie Control protocols
-Controls multiple applications and workstations
-Slim, compact design for easy studio integration and portability
Artist Mix :
-8 touch-sensitive 100 mm long throw motorized faders
-8 touch-sensitive rotary encoders
-8 high-resolution OLED displays
-Ethernet connectivity for high-speed, high-resolution control
-Footswitch jack to punch in and out of recording
-Supports EUCON, HUI and Mackie Control protocols
-Controls multiple applications & workstations
-Slim, compact design for easy studio integration and portability
Artist Transport :
-Speed up tasks with the assignable, weighted data wheel
-Move through your project using the assignable, spring-loaded shuttle ring
-Trigger keyboard shortcuts, macro commands, and more with six programmable Soft Keys
-Navigate through projects fast using seven programmable transport controls with multi-color status LEDs
-Quickly navigate to time code/markers or edit parameters using the integrated numeric keypad
-View time code, parameter names/values, and more through high-resolution OLED display
-Get high-speed, high-resolution control through Ethernet connectivity
-Take control of software using EUCON, HUI, or Mackie Control protocols
-Control multiple applications and workstations
-Slim, compact design for easy studio integration and portability
Price
Artist Control : $1.999
Artist Mix : $1.699
Artist Transport : $539
For detail please contact :
PT. Berkat Digipro Solusi
(+62)21 2653-8585
Jl. A.M Sangaji 38
Jakarta 10130
---
Artist Series - Speed up your workflow based on Eucon
Sponsor
---
1 post • Halaman 1 dari 1
Kembali ke Berkat Digipro Solusi
Siapa yang online
Pengguna yang berada di forum ini: Tidak ada pengguna yang terdaftar dan 1 tamu